Donation Needs:
We have been requested by Hope House Orphanage to take on the task of building a transition dormitory.  When the boys turn 18, legally they are not allowed to spend another night in the orphanage facility.  Oftentimes, they have had to return to the streets or to the family situations from which they were taken.
The Way Ministries  will not only be responsible for the construction of this project, but also for the raising of funds.  In order for us to begin this project, January 2016, we will need approximately $100,000 operating capital.
This transitional facility helps young men to integrate into society.  They will be required to continue their education and/or get a job while living in the facility.
This project is by far the largest we will have undertaken. Your help on any level — participating in a mission trip, praying about the ministry, and/or donating to the project — will be greatly appreciated, as we work together to make a difference in the lives of young men in Guadalajara.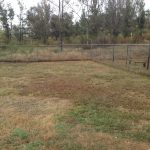 Construction Projects at Iglesia De Fe (Faith Church):
Funds to continue renting the current facility on Sundays (with hopes to build/buy a permanent location)
Please send your check made out to The Way Ministries – Guadalajara.  Mailing address:
The Way Ministries – Guadalajara, P.O. Box 152, Hebron, KY 41048
All donations are tax deductible. Thank you for helping change lives for the Kingdom!