Donation Needs:
Ministry Projects at Iglesia De Fe (Faith Church):
Funds to continue renting the current facility (with hopes to build/buy a permanent location)
Occasional special projects in partnership with Iglesia De Fe (pastoral building additions, hospital ministry, etc.)
Please send your check made out to The Way Ministries - Guadalajara.  Mailing address:
The Way Ministries - Guadalajara
P.O. Box 152
Hebron, KY 41048
All donations are tax deductible. Thank you for helping change lives for the Kingdom!
Help Us Raise Funding For a Permanent Building
I NEED YOUR PRAYERS AND I NEED YOUR HELP!!
The last week of June, while on a mission trip, I know beyond the shadow of a doubt that I was called to do something very specific that is way bigger than me. I was called to raise $100,000 to purchase a building for Faith Church of Guadalajara, Mexico. This is the church that I have served with on over 15 mission trips over the past 10 plus years. The cost of the building has dropped from $320,000 to $220,000. I am praying the owners will sell it for under $200,000. Please join me in fervent prayer for a miracle on the price for this facility.
Being completely transparent, we received $60,000 2 years ago as a donation earmarked just for this purchase. It was from my mother and it was one of her last wishes to see Faith Church own the building they are currently renting. I have put my money where my mouth is and continue to give very heavily to this cause. The Way Ministry-GDL is a 501c3 organization. We have no paid employees. All donations go toward the work we do in Mexico. I wish that I could reach this goal without asking for help, but I can't.
I'm trusting that God will place this message on the feed of those He will call to be a part of this ministry opportunity. Will you consider helping us meet this goal?
If they own the building, they won't have to worry anymore about rent being raised, or how to make rent. Our teams will start to make permanent improvements to the facility. I am confident that more lives will be changed and reached for the Kingdom.
Please message me with any questions. There are options to give on our website thewayministriesgdl.com. Or consider going on a trip with us to see what God will do to draw you closer to Him.
Thanks for reading and for your prayers.
-- John Trinkle
Click here to donate  |   Share this on Facebook
---
Donation Needs Met at Hope House Orphanage!
We were requested by Hope House Orphanage in 2015 to take on the task of building a transition dormitory.  When the boys turn 18, legally they are not allowed to spend another night in the orphanage facility.  Oftentimes, they have had to return to the streets or to the family situations from which they were taken.  Due to support from many donors, this was completed in 2019!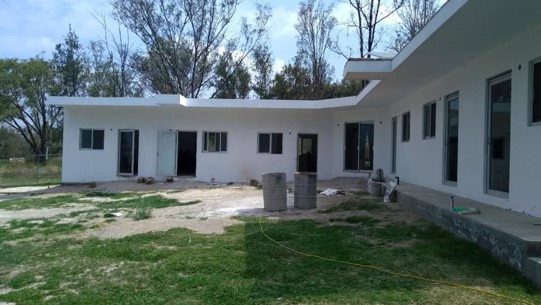 The Way Ministries was not only responsible for the construction of this project, but also for the raising of funds.  This transitional facility helps young men to integrate into society by continuing their education and/or getting a job.